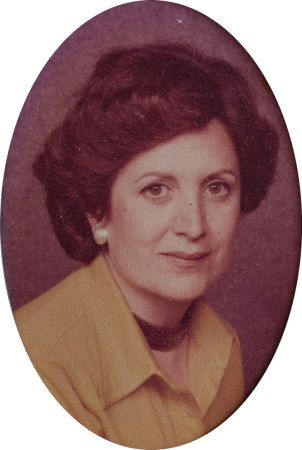 Dora started her schooling at Loreto Convent in 1939 but the Second World War broke out shortly afterwards which resulted in her being evacuated to London where she continued her education at St Aloysius Convent School in Clarendon Square for the next four years.  As an only child, Dora had to look for ways to entertain herself and painting was what she most enjoyed. Her talents were spotted by her school friends who would ask her to illustrate their autograph books.
After the War, she returned to Gibraltar where she attended Brympton School, a private school which had been established in 1920 primarily for the children of officers and officials in the naval, military and civil services and which had re-opened shortly after Dora's return to Gibraltar.  Whilst at Brympton, Dora's interest in art was encouraged by the head-teacher there, Miss E.M. Simpson, the well-known Gibraltarian artist, Leni Mifsud who gave her private art lessons and Mr Brinton-Lee when he was the area and stayed at hacienda 'El Almendral' in San Roque.  
Dora's love of the arts extended to music, and she was also taught to play the piano as a young girl by the well-known music teacher at the time, Marjorie Discombe.  Although Dora was encouraged to take up art as a profession, she was concerned about the lack of security which a career as an artist offered and in this resulted in her taking up teaching instead which provided security and allowed her to pursue art, albeit as a teacher.  
In January 1951 Dora entered the Department of Education as a student teacher and obtained a government scholarship the following year.  She trained as a teacher at Digby Stuart College in Roehampton (now part of the University of Roehampton) where she chose art as her specialist subject.  During that time and due to shortage of money, many of her paintings were painted on practice paper which has meant that a number of these paintings have deteriorated over the years although some of these have survived included 'The College Ruins' and 'Roehampton Common'.  She obtained an Art Teacher's London University certificate which, in 2017 was upgraded to the degree of Bachelor of Education.
After completing her studies, Dora returned to Gibraltar where she started off teaching at Castle Road School where she later became head-teacher.  She then moved to St Mary's Middle School as head-teacher and remained there for the rest of her career.  The school was originally located at Johnstone's Passage but it later moved to what is now Prior Park School where she ended her career in 1985. Several of Dora's works are currently on display at Prior Park School and many of her works can be viewed on www.doramontegriffo.org. Dora was always proud that St Mary's was the first Middle School to have a library and of the record number of her students who were successful at the eleven plus examination and obtained places at the grammar school.  
After retiring in 1985, Dora dedicated her free time to painting.  Retirement also meant that Dora was able to travel more widely which enabled her to visit art galleries, one of her favorites being the Musée d'Orsay in Paris and its collection of French impressionist masterpieces.  She also enjoyed photographing sceneries which caught her eye and which she would then paint.  On 18 March 1991 she held her first exhibition which was opened by the Chief Minister of the day, Joe (now Sir Joe) Bossano (see Gibraltar Chronicle, 1, 12 and 18 March 1991).
Dora's style of painting has been described as "conventionalism with a touch of impressionism" (see Gibraltar Chronicle12 March 1991).  She disliked precision painting and preferred to capture the light and make things alive and carefree.  She was impressed by Claude Monet's style and particularly liked 'The Japanese Footbridge'.  So much so that when in Paris, she took a photo of that bridge to paint it from a different angle.  Other painters she admired were Joaquín Soroya and Diego Velázquez.  She was particularly impressed by the way Soroya captured the light and Velázquez's techniques and carefree style.  Dora was not impressed by modern art but understood how it could be appealing to the eye.  
Dora's lifetime dedication to teaching and her love of painting resulted in her leaving a legacy for an annual painting competition to be organized between the middle schools in Gibraltar or for the promotion of the painting in any other way amongst middle school pupils.